Lucky for me, an awesome lady contacted me and asked if she could write a particular article for my website. I said, "Of course!" Who doesn't like seeing other people's opinions in the fitness and health industry? There are so many great articles and writer's out there and I am happy to say that I really enjoy having their idea's, transformation stories, and opinions shared on my website.
Here is Brenda's article on the differences between running and lifting. Which one will really help you achieve your weight loss goals?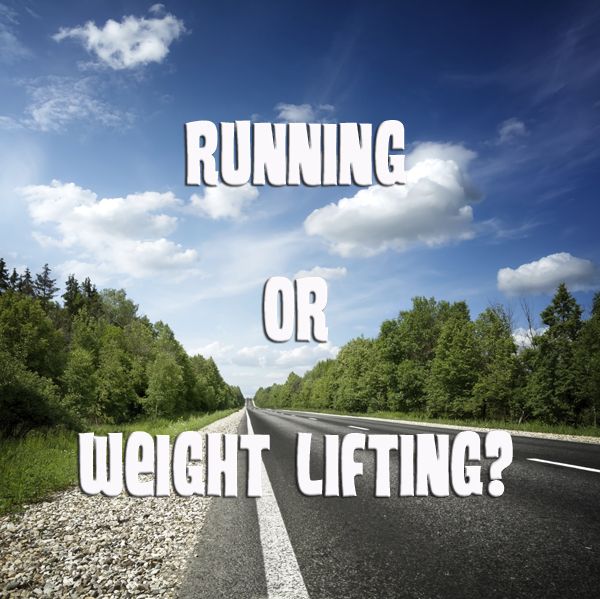 Losing Weight - Running or Lifting?
There is an age old argument in the physical fitness field as to whether it is more effective running to lose weight or lifting weights to drop those extra pounds. It is such a dilemma because, in fact, both methods of exercise can result in weight loss. A more succinct way to put it may be which is more efficient. In other words, what type of time must be dedicated and effort put into each form to provide the best results. Instead of trying to convince you either way, I'll just state some facts and let you make up your own mind.
An hour of running or jogging is a great way to burn calories. So is an aerobic workout and a session on a stationary bike or treadmill. These are all examples of a cardio workout.
At the same time, it is true, that muscle burns fat. With this, weight training will certainly result with a slimmer version of yourself over time. Speaking of time, is one method quicker to your goal than the other?
If you go by the normal amount of perspiration generated by cardio movements as opposed to lifting, it would appear cardio is your hands down winner. However, as we all know from meeting attractive people in the gym, looks can be deceiving.
The lifting of weights and subsequent building of muscle mass increases your metabolism which in turn burns calories more efficiently over time. How many calories will you eliminate lifting the bar and dumbbells? The standard answer is that for every 30 minutes spent lifting the appropriate amount of weight for your current size, it will result in the burning of approximately 300 calories. This is contingent upon a standard lifting regimen that includes 12 reps, 4 sets on a leg press with 60 second breaks and 6 sets of weighted "step ups", 20 times with each leg at 90 second intervals. Never proceed with any exercise routine without first consulting with an authorized trainer to insure you are utilizing proper technique and using a reasonable amount of weight to achieve the desired result without injury.
An effective cardio routine is based on the exhausting of oxygen supplies to the muscle cells forcing your heart rate to accelerate to replace them. So, you ask how many calories will I burn in 30 minutes of cardio as opposed to the same half hour lifting weights? The protocol for cardio is movement on a 1 to 2 degree incline at a speed of 6km/hour. After 30 minutes you will have burned, guess how many calories? You are correct sir or madam! The same 300.
As it turns out we began this article with something of a trick question. The answer as to whether cardio or weight training is the best way to lose weight is both. The best route to dropping the extra pounds is to combine both techniques on an every other day basis. Occasionally, you can participate in a "super session" where you do half cardio, half weights within an hour or so total.
Another answer to this question can be a matter of preference as well. Both, if done properly, along with a proper diet, will get you where you want to go.
This was a Guest Post by Brenda Panin. She is a contributor to several fitness and health blogs and she is currently a web content writer for
gym brisbane
. She writes about new effective ways to lose weight and tone muscles.