It amazes me at how much kids are given sugar on a daily basis. Half the time, it's not all the parents fault either. It's the school teachers, the other mommy's donating snacks and treats at school fairs and celebrations, coaches handing out treats after a job well done, a small treat for the kiddo's from the bank teller, school lunches, school parties, and more. My list could go on and on.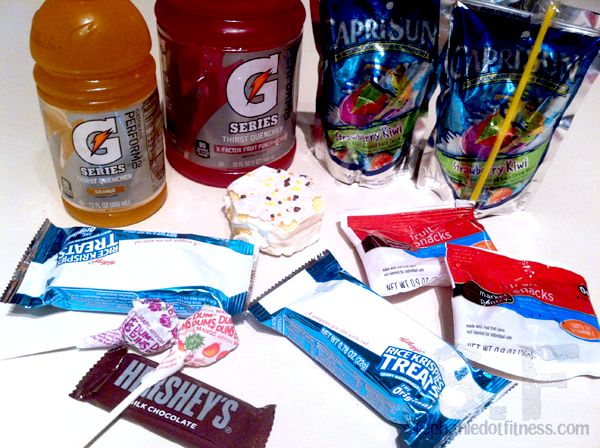 This is a picture of what 5 days of extra junk food that my kids have brought home that I have to monitor for them. What's even more sad, is I now I'm the 1 out of every 20 parent that takes their kiddies goodies and explains to them that we need to save these for another day or at least after we eat our meal. Every time I confinscate treats and sugary drinks from my kids, they now know it goes into a stash that is in our pantry. Then every weekend they have a choice of which one's they would like to eat. But, they can't have all of it! Most of it gets chucked, weekend after weekend.
Sometimes I feel like I'm the worst mom. It kills me to see the look on my kids face when I tell him he can't have that piece of candy right now, while he turns around and says, "but, that kid is?" It's extremely hard to stay firm in my beliefs of lowering my kids sugar intake day after day. And my faith in this is tested every day when my little guy gets excited because he just got a "Ding Dong" from one of the mom's after his football practice. What kind of message is that sending my kid?
Now, I'm not saying that all sugar is bad. Because it's not. I just mean that we as parents need to start getting more involved in our children's diets and start monitoring what are kids are consuming day after day. The picture you see above is only 5 days worth, so not even a full week. These treats also don't include the 2 birthday parties my 1st grader had in his class which was supplied with Twinkies and Licorice Whips.
There is a real epidemic going on right now. Right under our noises. Diabetes. Obesity. And your sweet children may be next. We need to stand our ground. Be parents who monitor our children's diets, so that they can become healthy and fit all the way to adulthood. Teach them good eating habits. Teach them that a little sugar is okay and when the occasion calls for it, but having sugary treats and drinks all day, everyday is just signing our children up with insulin problems and weight issues as they get older. I know none of us want that for our children.